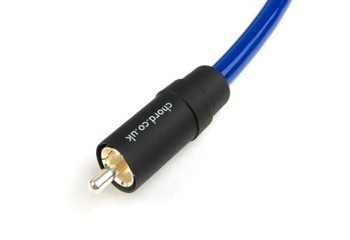 EXTRA LENGHTS
SPECIAL ORDER ONLY
Whatever the level of home cinema system you have, the subwoofer plays a crucial role in bringing the proper home cinema experience into your living room.
The high quality shielding and twin conductor configuration of the Crimson VEE 3 cable will help to properly define and articulate the signal fed to your subwoofer. This may seem like something important for music, (it is), but it's just as important for films as well.
The VEE 3 RCA plug plays a part as well, the direct gold-plated contact helping to ensure the best signal transfer and bring an extra degree of precision to each piece of subwoofer drama.
The Cable

Crimson VEE 3 cable is a pseudo-balanced/symmetrical cable design.  There are two sets of multi-strand oxygen free copper conductors, one set used for the signal and the other set for the return.  The conductors are twisted and are insulated with a low density, low loss polyethylene.  Chord use the pseudo-balanced configuration because it carries signals more accurately than a simple coaxial or asymmetrical cable.  The conductors are held in place with two vibration damping cotton spacers.  Reducing vibration both internally and externally is extremely important to signal quality.

The conductors and spacers are wrapped with a natural cotton filler before the critical dual-layer shielding is applied.  The shield comprises of a high-density braid and an overlapped foil.  This combination of shields extends the performance of the shield across a wider bandwidth.  The shield is fully floating.  The shielding is then surrounded with a soft PVC to further improve mechanical damping and this is then protected with a hard PVC outer layer.  

The Plugs

The Chord Crimson VEE 3 is fitted with Chord's custom VEE 3 RCA plug.  The new design of the ABS outer shell and the unique gold-plating process applied to the contact areas improves signal transfer across a wider frequency range.  The signal return surround provides a secure high-pressure contact with all types of RCA sockets.  The centre pin is insulated with PTFE and the design of the plug provides good strain relief without compressing the cable and compromising the performance.  

Use it with

The design of the Crimson VEE 3, the gauge of its conductors and its highly effective screening means that the Crimson VEE 3 will perform extremely well over long runs with minimal signal loss and interference. These are all the important areas to think about when it comes to subwoofer cable. The Crimson VEE 3 works really and is a cost effective solution when it comes to considering the long runs of cable often needed for subwoofer connections.
Save
Save